2LP Release: Amp Wall Monument Confrontation - Kalas Liebfried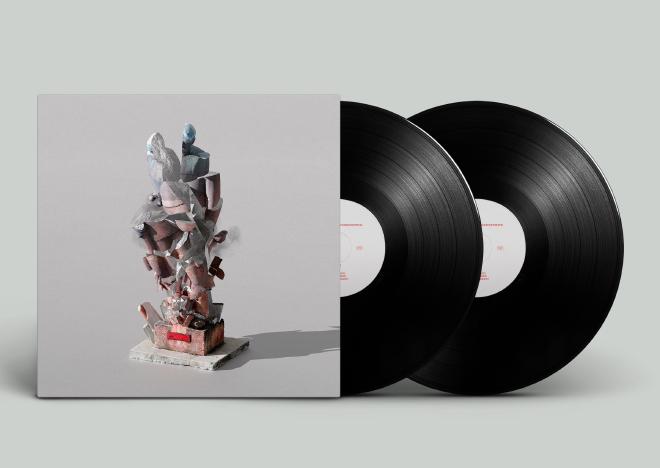 Liveperformance: 12 June 2021, Boschbrücke, Munich, Vinyl release: Feb 2023
The project AMP WALL MONUMENT CONFRONTATION aimed to recon- textualize the Otto-von-Bismarck monument at the Deutsches Mu- seum (Boschbrücke, Munich) by means of sound and performance. In order to call attention to the imperialistic, nationalistic and colo- nial contexts a sculpture consisting of 21 guitar amplifiers has been installed for one day infront of the monument. Seven electric guitars were connected to the sound system. On them, together with seven guitarists, an ambient drone composition has been performed for four hours. Side A and B present edits of the sonic material recorded on site, following and interpreting the structures of the related score. Side C and D present interpretations of the same material and structures, created by Lamin Fofana, Sarah Badr alias FRKTL, Elsa M'bala, Cedrik Fermont and Jay Glass Dubs. The release will be accompanied by a print insert incl. the related score and an essay by Australian scholar Damian Lentini (curator, Haus der Kunst, Munich). In this way, sustai- nable access to this ephemeral action and to the critical examina- tion of German colonial history and current polyphonic postcolonial discourses will be made possible.
A1 - IT TOOK THE NIGHT TO DISBELIEVE A2 - ENGINE OF FUTURE RUINS
B1 - IMPERIAL GHOSTS
B2 - SINK THE BISMARCK
B3 - BREATHE THE FREQUENCY
C1 - IT TOOK THE NIGHT TO DISBELIEVE - LAMIN FOFANA REWORK C2 - ENGINE OF FUTURE RUINS - FRKTL REWORK
C3 - IMPERIAL GHOSTS - ELSA M'BALA REWORK
D1 - SINK THE BISMARCK - CEDRIK FERMONT REWORK
D2 - BREATHE THE FREQUENCY - JAY GLASS DUBS REWORK
Performance excerpts: https://vimeo.com/582133481
Musik video: https://vimeo.com/663698669
AMP WALL MONUMENT CONFRONTATION
A sonic experience created by Kalas Liebfried. The performance was staged on Saturday, 12 June 2021, 4 p.m. – 8 p.m., at the Otto-von- Bismarck-Monument, Boschbrücke/Deutsches Museum, Munich.
Kalas Liebfried - conception, art direction, narration, curation (re- works), production, stage design, casting, editing (A1, B1, B2)
Benedikt Brachtel - production, score, editing (A2, B2), recording, mixing
Jakob Braito - production, editing (B3)
All tracks on A and B performed by: Anna Emmersberger - bass guitar Robin Jermer - bass guitar Jeffrey Grunthaner - guitar Maria Margolina - guitar Miko Watanabe - guitar Manuela Illera - guitar Nick Saalfeld - guitar Reworks on C and D by: Lamin Fofana - production, mixing (C1) FRKTL - production, mixing (C2) Elsa M'Bala - production, mixing, additional recordings (C3) Cedrik Fermont - production, mixing (D1) Jay Glass Dubs - production, mixing (D2) Photography by Christian Kain Cover artwork (front) by Paul Valentin Graphic design and layout by Alexander Scharf (typeface: "BRUTAL INTEGRAL" by MB Intl' Fabian Maier-Bode) Mastering by Keith Tenniswood
This project is funded by the City of Munich, Department of Arts and Culture, Public Art and Neustart Kultur.
Double LP, 12" vinyl, gatefold cover + booklet, 16 p., b/w Published by SVS Records and PARA ©2022 SVS018